SS23
Evermore, Pre-Fall 2023
Surreal. Soft. Dreamlike.
Saundh's Pre-Fall 2023 collection is all things love. It is a hint of romance - a romance with oneself. It encapsulates the excitement of a newly found love, filled with dreams & magic.

Clothes, like the mood, are a hug of warmth. A gentle, joyous pastel love affair dipped in cheery dyes of lavender, emerald, tangerine and ivory. Signature silhouettes of one shoulder dresses, classic tunics, co-ord sets, open jackets and sarees. This is Evermore, by Saundh.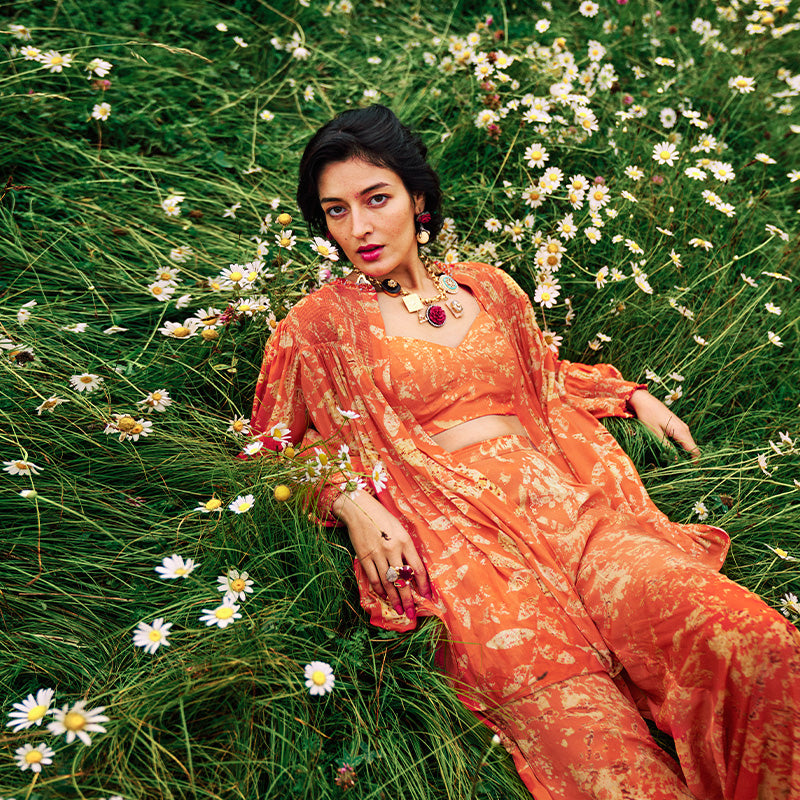 SS23
Evermore, Pre-Fall 2023
This season, the Saundh woman takes a break. 
To pause. To reflect. To cherish. To love. 
It is her moment to reminisce. This time, of her own self. She has been fierce, relentless and passionate. Made up of her own choices. Just now, is the time to pause.

Evermore speaks of calmness and innocence that is found after. A sense of whispers and not laughter. An autumn chapter that is filled with the beauty of the flower valleys, mystical ponds and timber houses in sunlit landscapes. A capsule edit to take you on a romantic journey, exclusive to yourself.